KentBank Success Story – How Turkey's leading conglomerate runs a European Union bank on Mbanq solutions

A bona fide success story in its class, KentBank stands out on the European banking market with its steady growth over the past decade, superior asset quality, low NPL ratio and a constantly higher capital adequacy ratio than legally required.
KentBank is owned by the Süzer group, one of the most successful Turkey-based conglomerates, whose roots date back to 1952 and which operates primarily in real estate, tourism and energy sectors.
In addition to its many businesses, the family-owned Süzer group gives back to society in several ways, including a charity foundation and a large art center.
One of the group's most famous construction projects is the splendid Süzer Plaza in downtown Istanbul, just steps away from the central Taksim Square. It is the location of the Suzer group HQ and of the Ritz-Carlton Istanbul, the only hotel of this storied franchise in that part of Europe.
As part of their diversification and internationalization strategies, the group eventually ventured into the EU banking sector with an acquisition of a bank in Croatia, the youngest EU member state.
Led by CEO Hasan Ecesoy, a seasoned professional in the industry, KentBank was an early adopter of mobile banking and remains a leader in digital transformation.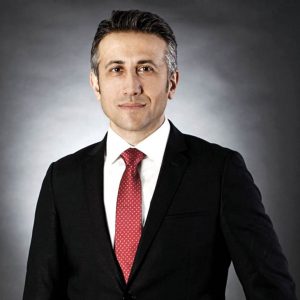 Hasan Ecesoy, KentBank CEO
"I'm a firm believer that digitilisation will increasingly dominate in the Banking industry. In order to secure excellent customer satisfaction, we need to position ourselves accordingly. That is why we have been heavily investing in our IT infrastructure for 5 years now", Mr Ecesoy explains.
Successful start of the KentBank – Mbanq partnership
After acquiring an existing bank and investing a significant amount of capital, the new management started rebuilding bank infrastructure from the grounds up. They developed the KentBank brand and arranged a thorough selection process to find a banking technology partner that could support their ambitions.
"We selected Mbanq because they were up to date with technology and they transparently communicated their USPs, especially regarding their database structure", Franjo Prgić, long-time IT Director at KentBank, says.
KentBank inherited a decentralized database with multiple codebooks, which led to numerous cases of overlapping of accounts and codes.
Mbanq on the other hand operates on a unified SSOT database (Single-Source-of-Truth) and records transactions in real time, which maximizes operational efficiency by eliminating duplication and the need for internal reconciliation.
"What we got with Mbanq was an integrated solution with everything in it, which was a drastic change from our previous system with multiple modules and databases. It's a lot easier to work with an integrated solution than when you have 5 solutions and 5 different vendors."

Franjo Prgić, IT Director at KentBank
At the time, KentBank had few people with experience in migration projects. This is where the partnership also proved to be fruitful.
"Today's KentBank is an excellent bank with a standout team in all departments, but at that point in time, partnering with the Mbanq team was a boost for us in terms of knowledge transfer", Prgić continues.
Both the KentBank and Mbanq teams joined forces to make the migration project a great success, completed from start to finish in just 110 days!
It's important to note that the process of migration involved consolidating 15 years (!) of historical data. What made the task even more challenging was that there was no unique transaction identifier.
Bojan Benjak, KentBank's Head of Operations, has had experiences with core banking migrations prior to his currently 5-year tenure at Kent. "Historical data is the biggest problem in migrations. In many cases this data remains stored on the side and you don't have easy access to it, leaving you with just the status from the migration onwards."
Here we had a case where all historical data was migrated, so the bank went on functioning as if the migration never happened.
"It's as if the bank was always running on Mbanq", Mr Benjak states.
Cutting down time-to-market by empowering the bank
With more than 15 years of experience in banking operations, and having worked for a couple of midsize banks. Mr Benjak adds that Mbanq saves time and allows the Operations Department to focus on serving customers.
"Mbanq is totally user friendly. Simple to use, with clear and intuitive interfaces. Compared to other banking systems, Mbanq is better just by being simpler to use."

Bojan Benjak, Head of Operations at KentBank
He's worked with banking solutions where you need several clicks for actions that require just a single click within Mbanq.
"I'll give you a basic example – Mbanq lists all the transactions on an account or on a loan in a single click, whereas in some other systems it's chaos to get these things in order. Everything is optimized for the bank staff to work efficiently and for the bank clients to receive a transparent insight into their data."
One of the Mbanq modules most frequently used by KentBank is the Skyshaper, which enables bank employees a high level of control and configurability. It allows the bank to internally design, launch and operate almost any deposit or lending product, and to freely choose the level of complexity.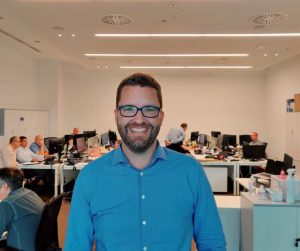 Bojan Benjak, Head of Operations at KentBank
 "Whenever we adapt any of our client offerings, we look to parameterize as much of it ourselves through the Skyshaper. It leads to a lot quicker time-to-market and a reduction of costs needed to develop new banking products. Means a lot to be able to configure so much on your own and not having to ask the vendor."
Fully automated deployment
Requests for modifications to the KentBank core are mostly communicated through Mbanq's own ticketing system Hogar. It's integration with the software updater tool ASU makes deployment a whole lot more convenient for the bank.
"When we receive software updates, the system clearly indicates the exact tasks that each of the updates refers to, and it also points to all the possible interdependencies", Prgić says.
"This kind of deployment is a huge advantage – it is about as automated as it can get, plus it has built-in verification systems, which eliminates the potential for mistakes that are bound to happen when you update things manually."
Another aspect of customer support is regulator relations. Whenever a new regulation is issued, it requires the bank to adapt. Ran by people with huge banking experience, Mbanq goes beyond the IT solution and is fully invested in regulator relations.
"Their understanding of European Union regulations makes communication that much easier."
Constant need for innovation
KentBank grew 6-fold in the last 12 years. What's best about their growth is that its foundations are as sound as can be, backed by a healthy balance sheet and a supporting owner.
This leaves the bank in an excellent position to achieve business goals.
"Ultimately what we're focused on is meeting our clients' needs. This of course means that we'll continue on the path of digital transformation", confirms the IT Director Franjo Prgić.
This makes perfect sense as the demand for digital delivery in banking is only going to increase.
"Millenials and Gen-Zs will pretty soon become banks' main clients, and they're definitely used to digital channels. In time, visiting bank branches might become obsolete", Bojan Benjak claims.
CEO Ecesoy also stands firmly on the path towards further investment in digitalization.
"This will remain as an ongoing trend, and we surely need a strong partner in dealing with all the challenges that business brings. We consider ourselves lucky to have such a prominent partner like Mbanq in this journey and we are highly satisfied with our partnership."

Hasan Ecesoy, KentBank CEO
For a successful and future-oriented bank like KentBank, staying on top includes constantly innovating and adapting to the everchanging needs of its clients.
"The goal is to have all our services accessible on digital channels as well. We want to be able to offer everything a digital-only bank does. It's imperative that our core banking partner can support us in that perspective", Prgić concludes.
Want to know more about Mbanq and how it can power your digital banking business?
Feel free to contact us with some basic information about your project and we will reply as soon as possible.